What does tradition tell us about the holidays? As Hanukkah is underway and Advent begins, we examine how collective rituals can unite us, both within and across faiths.
What is tradition, really?  
It's defined as the transmission of customs/beliefs between generations, and the nature of the word itself suggests its deep reliance on community. There's a reason culture can be steeped in tradition – and a reason that there's a stigma attached to solitude at the holidays. And that's because tradition depends on sharing to survive. You can most certainly enjoy traditions on your own (I sure do), but the fact is that they don't sustain unless they're shared with other people and carried forward. Since we as humans are mortal, they obviously wouldn't live past just us. 
Not unless we share them.
As we kick off December I wanted to take a look at the nature of community and its integral significance in holiday rituals. So here we go: a brief but hopefully interesting look that will prompt us to reflect and help us cherish the people that make the traditions great.
Christmas | Christian tradition
Christians celebrate the birth of their saviour Jesus Christ by attending a mass or church service to have communion, as well as partaking in a feast and gift-giving. However much mass consumerism may exploit the togetherness of Christmas to sell more products, the holiday itself dwells in generosity, regardless of money spent.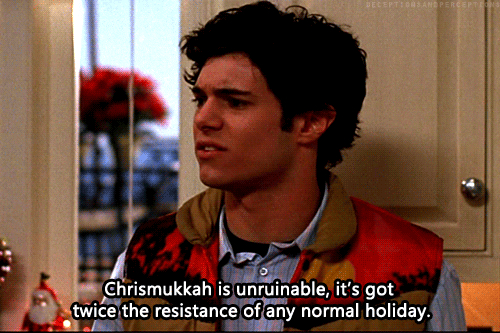 Hanukkah | Jewish tradition
Hanukkah is celebrated for eight nights to symbolize the successful rebellion of the Maccabees against the Seleucid empire. At the dedication of the Second Temple, the menorah burned for eight days even though there was only enough oil for one. Jewish observances also include playing dreidel and gathering to eat oil-based foods such as latkes.
Winter Solstice | Cree Tradition
Among Cree nations in North America, the winter solstice allows an opportunity for rest and renewal. As the shortest, darkest day in the year, the solstice sees Cree people reflecting on the past year and their connections with plants and animals by looking at the stars. Specifically, the Seven Sisters constellation, or "the hole in the sky" prompts Cree people to come together and reflect on their ancestors.
Kwanzaa | African-American tradition
Kwanzaa celebrates African-American heritage in the United States. Children are included in the observances, and respect is paid to elders and ancestors, concluding with feasting and gift-giving. Families also decorate their homes with African art and colourful African cloth such as kente.
Sinterklaas / St. Nicholas Day | Dutch tradition
Celebrated in the Netherlands, Belgium, parts of France, and former Dutch colonies, Sinterklaas Day celebrates the Feast of St. Nicholas, in which Sinterklaas returns from Spain. Children put out wooden clogs on the night of December 5 and awake to chocolate letters, ginger cookies such as speculaas and kruidnoten, and oranges in the clogs. The Sinterklaas parade is also a well-attended event among families in Holland.
Ōmisoka | Japanese tradition
Ōmisoka signifies the end of the year, and is celebrated on the final day – December 31. A few hours before the year ends, Japanese people join together for parties and eat toshikoshi soba or toshikoshi udon, long noodles which symbolize passing from one year into the next. From midnight, the first hours of the day are spent at a shrine or temple, and greeting one another. 
Tradition is an instrument of community. As we've seen, one person can practice rituals, but it takes many to sustain traditions for years to come. It's interesting to imagine, with the rise of digital technology and its new prominence in our lives, the new traditions we may create and carry forward – and those which may falter. Nevertheless, one thing has endured throughout: our human craving for connection.